Dine with a Celebrity Guest
November 18, 2007
We've just opened up reservations for a dinner with each of our Celebrity Guests. Only a small number of spots are available for the two celebrity dining nights, and you can signup under our Reservations Page.
Everyone should have received their Carnival booking number in an email we sent last week. We highly recommend you use Carnival's FunPass Check-In and save 40+ minutes waiting in line at the cruise dock.  Just enter your booking number, Elation, 12-01-2007 sale date, and register away!
_________________________________________________
Cruise Merchandise
November 7, 2007
Browncoat Cruise merchandise is now available for preorder, and can be picked up at the Kick-Off Party Nov 30 or onboard. TShirt preorders will only be possible for a week, as it takes about two weeks to print them. Check out the merchandise thread, and view our Browncoat Cruise Store on the Reservations Page for:
- Celebrity Guest Autographs and Photo Ops
- Limited Edition Browncoat Cruise Travel Posters: designed by Adam Levermore-Rich who will be onboard to autograph your unofficial 6th travel poster!
- Limited Edition T-Shirts: we're only printing a small number over preorders, so preorder if you want one.
- Browncoat Cruise DVD
- Dinner with a Celebrity Guest, etc
_________________________________________________
FAQ Updated
October 29, 2007
A big update to the FAQ is now online! There are a few topics in development that will be added shortly, like excursions, dining, etc.
_________________________________________________
Nectar Rose joins us, More Cabins!
October 26, 2007
Please join me in giving a big welcome to....Nectar Rose! That's right - Lenore, aka Mr. Universe's Love Bot, will join our shindig. Nectar, who also made space in her busy schedule, is looking forward to meeting everyone. Our guest list was a little boy heavy, wasn't it?
Thank you to everyone who has donated so far - it does help. And don't forget to let us know if you want your name in our full-color Browncoat Cruise Souvenir book.
We still have a handful of rooms available, but Carnival can't hold the rooms for much longer, so please book immediately if you are interested.
_________________________________________________
Two new Guests - Jonathan Woodward & Sonny Rhodes
October 21, 2007
In the spirit of never say never, we have some truly wonderful news. Guess who's joining us? That would be Mr. Jonathan Woodward who played Tracey on the Firefly episode "The Message" and also appeared in Buffy and Angel! Jonathan called this morning and is excited to be partying with us on the high-seas. We welcome him and his unique brand of fun. Thanks Jonathan!
But he isn't alone. The illustrious blues musician Sonny Rhodes, who performed the Firefly theme song, is joining us for his very first Firefly fan event. Sonny, who never alters an event, rescheduled a concert so he could be part of our experience, meet the Browncoats and perform for us.
We have verbal commitments and are finalizing the contracts with them this week.
So if you have a friend who was looking for another reason to join us, and wants to help us get back into the black, remember we have a handful of cabins available that we expect to go fast. Please Book Immediately immediately if you are interested in joining our newly improved cruise.
Since we are still a bit in the red, we are still accepting donations to help cover the costs of these new guests. As a thank you, everyone who donates or has donated can have their name printed in our Souvenir Book if they wish. Thanks! :-)
_________________________________________________
A Few More Cabins (going fast!)
October 17, 2007
Great news. It looks like Carnival has managed to open up a few more cabins for us. So if you missed your opportunity to join us for Browncoat Cruise, now is your last chance.
There is one catch, they can't hold the rooms for us for much longer, so please book immediately if you are interested.
Also, the price is a bit more that it was earlier this year, because we have to pay the current rate.
We don't have our store updated with the new prices, but prices will range between $920 and $1399 per person depending on the room type you choose.
So please help us get back into the black and snatch up these few cabins while they are still available. Please email if you are interested and we will get you on the list, and arrange payment right away.
Quick update: We just got our new pricing from the cruise line and, the pricing is better than we feared, there are two room types available:
Inside cabin: $770 per person (based on double occupancy)
Oceanview cabin: $950 per person (based on double occupancy)
Email me us and include number of people you'd like in your cabin (minimum 2, max 3) and their full names. I'll get the store updated shortly so you can actually order, but we need to get the names of interested parties turned in asap, so we can hold the cabins.
_________________________________________________
Cruise Update
October 12, 2007
Sorry for the slow news updates, we've been very busy. We are less than two months from our sailing date!!
As you may have heard Browncoat Cruise is now sold out. Though not quite in the way we had hoped. Our sales over the summer were decent, but then we got word that the ship is overbooked and there simply aren't any more cabins left, in spite of the fact that we were promised many more cabins than we received. The cruise line is trying to get us more cabins, so if you are still interested in joining us, please contact us and we'll add you to our waiting list.
We have some good news / bad news, Clare Kramer is pregnant with her first child, and we congratulate her. However, she will be far enough along by the time we sail that Carnival has told us they won't allow her to board. So we she had to cancel. We are actively searching for a replacement and are making some good headway. As soon as we know more, we'll let you all know.
_________________________________________________
Browncoat Cruise Giveaway Winner Announced
July 2, 2007
The winner of the Browncoat Cruise giveaway for the Can't Stop the Serenity charity screenings, that directly benefit Equality Now, is:
Paul Domalavage from the Tampa Florida CSTS screening
Paul, you've just won a cruise cabin for two on Browncoat Cruise! We know you'll have a shiny time.
We at Browncoat Cruise are very committed helping Equality Now, and as a global CSTS sponsor are honored to have been part of the fundraising efforts.
_________________________________________________
BCC is Global Sponsor of Can't Stop the Serenity; New Promo Video
June 1, 2007
Browncoat Cruise is a global sponsor for the Can't Stop the Serenity charity screenings.
To help promote the cruise and Equality Now, we produced a shiny ad featuring Ron Glass with music from the Bedlam Bards. It is available here.
Would you like to win a cruise cabin for two on Browncoat Cruise? You must attend a Can't Stop the Serenity charity screening this June to enter. One finalist will be chosen from each of the cities holding Can't Stop The Serenity events in 2007. The winner will be drawn by Browncoat Cruise on July 2, 2007, and promoted online. For more details, please visit BrowncoatCruise.com/rules.html.
Make sure your passports are up to date. According to some sources, if your passport expires in 6 months or less of your travel date, you will not be permitted to travel.

_________________________________________________
Clare Kramer Confirmed!
April 18, 2007
We're very honored to announce a real sweetheart, Clare Kramer, also known as Glory on Buffy the Vampire Slayer, will be a special guest on Browncoat Cruise!
Clare is a true Browncoat. Among other kindnesses, she opened her Hollywood restaurant La Cantina three weeks early, just to give the Backup Bash Browncoats a place to call home for an unforgettable evening with the cast. Thanks Clare :-)
Clare's quote and biography will be posted shortly.
_________________________________________________
Ron Glass Confirmed!
Cruise price cut by whopping $400!
March 24, 2007
A double helping of great news! We have confirmed our first Big Damn Hero (ie major Firefly/Serenity cast member for you alliance folk). Ron Glass aka Shepherd Book, will be joining us for Browncoat Cruise! For those that haven't had the opportunity to meet Ron in person, he can put a smile on anyone's face.
We will also be announcing a Buffy VIP guest (not a scooby) sometime next week.
After much hand wringing and number crunching we've decided to change the pricing structure of the cruise, first by massively dropping the baseline price of the Full Event Pass and then by making the autographs and guest photo ops optional upgrades. By doing these two things, we were able to drop the price for a given person by a whopping $400! Yes that means you can now get the Penthouse Suite on Browncoat Cruise for less than it would have cost for an inside cabin!
We are also capping the cruise attendance at 350. So far we've sold just over 100 passes, this leaves less than 250 passes available. With this price drop we expect the spaces to fill up quick.
Why are we dropping the price so much? Our previous pricing was based on the assumption that we would need to pay full appearance fees for four or more of the Big Damn Heros. Due to a certain other Serenity event happening a few weeks before Browncoat Cruise, the availability of the BDH's is quickly becoming limited, and we don't anticipate getting more than three, possibly less. Instead we plan to sharpen the focus of Browncoat Cruise as being just that, a 24-hour-a-day party cruise with Browncoats. The VIP guests and activities are primarily a value add.
That being said, we do anticipate announcing several more "Little Damn Heros" (Firefly/Serenity guest stars and production staff) over the next few weeks and months.
And rather than charging everybody for the autographs and photo ops, if you are interested you can add just the ones you want. Final pricing for autographs and photo ops are still being determined, but autographs will be no more than $20/ea, and photo ops no more than $30/ea.
Also, if you are a Southern California local, and don't have to pay for a hotel to "that other con", you may have noticed that it is now possible to attend BOTH their con and our cruise for less than what our cruise would have cost you yesterday!
For those of you that have paid-in-full for your full event pass, we now owe you a partial refund. We will be contacting you individually and should have the refunds processed in about 10 business days. You will be given the opportunity to apply some of your refund toward room upgrades and/or autographs & photo ops. Please understand that this process will take a little while.
_________________________________________________
Price Comparisions
March 24, 2007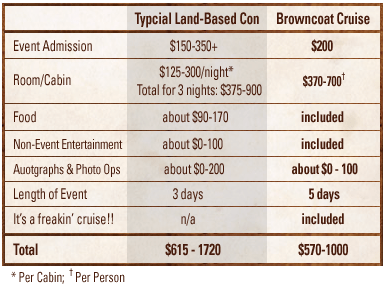 _________________________________________________
Michael Fairman confirmed!
February 25, 2007
Great news everyone - we have our second official guest! Michael Fairman aka Adelai Niska will be torturing....I mean entertaining the Browncoats. More guests will be announced soon. - Brian
"I'm anticipating that being at sea with the Browncoats on this cruise would be like rocketing the Serenity to ...oh...where...ah yes...Skyplace!!! Where they will all immediately become my prisoners. They will learn that Niska can be fun -- with good food, the sea and the stars, they will discover that it will be five days of delightful torture.
I am so excited by the prospect of spending time with this pack of joyous souls I've nearly wet myself. Believe it or not after meeting a swarm of them in England and in Los Angeles, they've made me believe I have a heart; that I'm capable of even... affection. I look forward to their energy, their comradeship and their spirit of fun."
- Michael
For more, visit Mr. Fairman's guest page
_________________________________________________
Bedlam Bards confirmed!
January 5, 2007
I'm very pleased to announce that the Bedlam Bards are our first official guests, and will be joining us in December for several events. Let the shindig begin! - Brian
"I really can't express how excited Hawke and I are about going on the Browncoat Cruise. In all our travels, we've found that Firefly fans are the most fun people to hang out with and the most interesting to talk with--so when we heard that the brains behind Done the Impossible were organizing five days of cruising with a bunch of shiny Browncoats, we said, 'Sign us up, Cap'n!'
To be totally honest, if it were anyone else's boat, I might have been a bit leery about signing on--but of all the very trustworthy and talented folks in the Browncoat community, the DTI crew shines as people who will get the job done. So we're expecting to see lots of you on the cruise of a lifetime."

- Cedric & Hawke
For more, visit the Bards' guest page
Cruise Details Announced!
December 15, 2006



Browncoat Cruise 2007 will be on board the Carnival Elation and leaves December 1, 2007 from San Diego, California. Our 5 day cruise sails to Cabo San Lucas, Mexico, then on to Ensenada, Mexico and back to San Diego.

We appreciate all the input from Browncoats around the world with regards to which cruise.
Choosing Southern California gave us the best access to VIPs and allowed us the flexibility we needed, which in turn will make the overall event better for all.
We will announce pricing and start accepting deposits in January. Welcome aboard!